Luke's VIP Club Newsletter
December 2017
Accessory Feature…  
Taping Guide Foot
Attach bias tape evenly and smoothly to the edge of any fabrics! It can be used with both single and double fold bias tape. Adjust the guide to fit with just the turn of a screw.
Insert double fold bias tape in guides.

Adjust guide. Place fabric between tape guides.

Select straight stitch. Sew bias tape.
Note: It may be easier to insert the bias tape if you put it in the guide before attaching the foot.    
Quilt  in the Embroidery Hoop…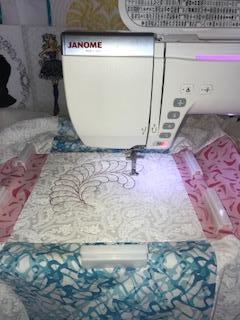 If you are having trouble quilting your projects, maybe you should check out the embroidery machines on the market today. Many of them have built in quilting designs and software programs that will allow you to completely quilt your project in the embroidery hoop. Look for a machine that has a lot of pre-loaded quilting designs. The hoop you will want to use for this technique has magnets that hold the fabric to the hoop since it is almost impossible to hoop that thickness. Many machines have this hoop as a standard accessory with the machine. We all like to cut the jump threads when doing embroidery but when quilting this feature needs to be cut off. Make sure the machine you are looking at has this feature that can be disabled. And most of all, choose a machine that has a large hoop size for stitching those quilt blocks. Quilting in the hoop is a hot trend right now and a great way to get that perfect quilting we all so desire!!!
How can I straighten the grain of my fabric? 
When a fabric is "on-grain," the lengthwise and crosswise threads are at an exact right angle to each other. Woven fabrics always follow the grain because they are made with the actual warp and weft threads. With wovens, when the grain is off, so is the pattern. With printed fabrics, their designs are printed on top of the woven threads. So the grain can be off and the pattern can still look okay
You can check to see if your fabric is on-grain by establishing a straight line across, from selvage to selvage, then folding the fabric to see if it squares-up. 
To do this, lay out your fabric panel right side up and flat on your work surface.
Near the top 
cut
 edge and starting at one side of the selvage, find one thread that goes all the way across (crossways). Start pulling it.
Ideally, you can simply pull the thread right out of the fabric. But if not, just pull until the fabric puckers along the thread, then keep bunching the fabric and pulling every few inches until the pucker reaches the opposite selvage.
Either way, pulling out this single thread will give you a straight line across the fabric.
The methods listed above still work without a selvage. It just makes it a bit harder to find the horizontal thread to pull. Place the fabric on your work surface oriented so the weft is running as it should: horizontal. If you're not sure, make your best guess. At one corner, fray the fabric so you can get ahold of one thread and pull as described above. If your pieces are small, there may not be much you can do since the cuts from the larger fabric have already been made.
Using this thread line as your guide, cut all the way across the fabric.
Some folks prefer to rip across. To do this, snip about ½" in from the selvage, then rip the fabric across.  Your ripped edge will need to be pressed flat
. 
Fold the fabric lengthwise so the selvages align and are perfectly flush. If the two sides of the edge you just cut also line up and are flush, your fabric is on-grain.
If you have a question please submit it tolukessewing@aol.com.  If possible we will use it in one of our upcoming newsletters.
Project of the Month 
Holiday Pot Holder Mitt

Items needed for this project:
Cut two 8″ squares of fabric and batting (you can use one layer of thicker batting, or two layers of low-loft)
Cut two 5″x 8″ rectangles of fabric and batting
Cut two 2″ strips of fabric to use as the binding (sew together using a 45° seam)
Note: You want to use all cotton batting (polyester can melt) or you can use a heat resistant batting like 
insul-brite.  
Make a quilt sandwich with the 8″ square of fabric and batting. Sew the layers together using a quilting technique of your choice.

Make the same sandwich with your 5″ x 8″ pieces of fabric and batting and quilt in the same way as the previous square.

Thread the machine and bobbin with thread matching the fabric.

Add binding to the 5″ x 8″ sandwich on one of the 8″ sides.

Trim the excess binding from the quilt sandwich.
6.  Now choose which side of your pieces you want to show. Lay your rectangle piece with the unfinished 8″ edge aligned with one edge of the square. Pin or baste in place on the three unfinished sides.
7.  Beginning at the top sew binding along all 4 sides.
Club Recap
Tri County's November 
Customer Appreciation Day

"Luke's Tri County, "Customer Appreciation Day"
Joann and Laquitta spent the afternoon with our fun VIP ladies on 90 minute gift ideas for Christmas.   We had a great group of 30 ladies and gentlemen.
Everyone who came received a Free Gift and we had a nice lunch for all….30% Off on all Club items as well!   Great Day!   Join us for our next one in January! (more details to come)

You're Invited…
December Events!

Held at:
Erlanger / Elsmere KY Store
Saturday, Dec. 2nd…11am – 5pm.
Christmas VIP Club Meetings
Join us for good company, good food, and good deals! We'll feature "Pickle Pie" Trunk Show!
In the spirit of giving, we welcome your participation in a $10. Gift exchange.
Plenty of door prizes! 
Remember to wear red for a free gift and bring something for the gift exchange! 
FREE
Dec. 12 (6-9PM)
 – Luke's VIP Club – Elsmere  
Dec. 13 (6-9PM) – Luke's VIP Club- TriCounty   
Call Margaret to Save Your Spot (KY)
859-342-6600
Call Gen to Save Your Spot (TC)
513-671-5100